Baskets for a trolley or crane
Concrete basket is used for the transport of concrete, e.g. to the moulding machine. It is adjusted for cooperation with a fork-lift truck and a crane.
The emptying valve of a container may be opened manually and hydraulically.
Our offer includes baskets of different sizes (0,5m3; 0,75m3; 1,2m3; 1,5m3).
Basket with stirrer
278/5000Trash can be transported by crane. It is equipped with a hydraulic power supply drain flap. At the bottom of the bin is a stirrer whose speed is controlled by the inverter. The basket is controlled via a cassette.
Basket capacity 1,5m3.
Rotary basket with snail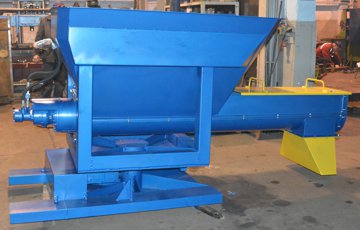 Basket designed for transporting concrete and spreading in forms. It is adapted to work with a forklift truck. It is equipped with a screw conveyor and hopper, by which concrete is dosed into molds. The basket has a swivel mechanism which allows you to change the place of landing of concrete in the 180 degree range. The hydraulic system consists of hydraulic motors, which are used to drive the rotation mechanism and the screw conveyor.
Basket capacity 0,85 m3.